The Making of Damian
Damian Musk, born on that auspicious New Year's Day in 2006, is not just one of the sons of the celebrated tech visionary Elon Musk. No, he's a distinct individual in his own right, crafting his own identity amidst the galaxy of stars that constitute the Musk lineage. Here's a peek into the life of Damian and what makes him tick.
Born Amidst Triumphs and Tragedies
Damian and his triplet brothers, Saxon and Kai, entered the world through the marvels of In Vitro Fertilization (IVF). This joyous occasion was also a beacon of hope for the Musk family, especially after the heart-wrenching loss of their firstborn, Nevada, to the unpredictable Sudden Infant Death Syndrome (SIDS).
Divorce, Shared Lives, and Growing Bonds
Though Elon and Justine Musk parted ways in 2008, their commitment to co-parenting never wavered. The tapestry of their children's lives is a shared one, a testament to the resilient bonds of family that persist despite life's challenges.
Education Beyond the Norms
Have you heard of the Ad Astra school? There are no traditional bells or rigid grade levels here. Founded by Elon and educator Joshua Dahn, the school's foundation is built on fostering student talents and capabilities rather than just adhering to age norms. Located in the scenic former estate of actor Gene Wilder in Bel-Air, the school's present location remains a mystery as of 2023. Dive into its curriculum, and you'll find a rich array of courses on Artificial Intelligence and coding, but surprisingly, no distinct methods on music or sports.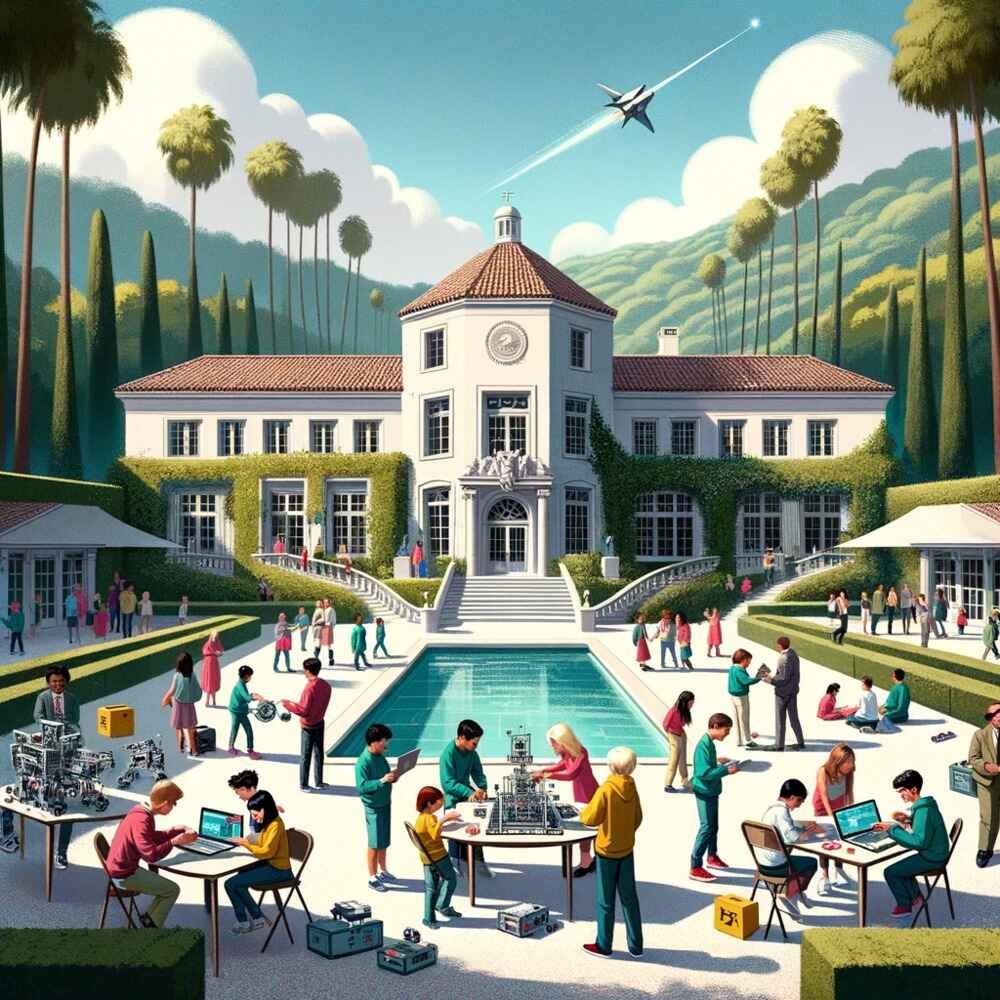 Passions, Pursuits, and Potential
Damian isn't just another student at Ad Astra. He's a young man on a mission. With his heart set on theoretical physics, he has delved into research at prestigious institutions like Fermilab and Caltech. Quantum information for high-energy physics is his playground. But Damian isn't just a scientist; he's also an artist. His flair for fiction writing and music echoes the harmony of science and art, a rare blend in today's compartmentalized world.
Moreover, Damian's involvement with numerous non-profit organizations underscores his multi-dimensional nature. Isn't it fascinating how someone so young can wear so many hats with such grace?
Living in the Musk Legacy
It's not easy being a Musk. The world's eyes are perennially trained on you, waiting for your next move. Yet, with his diverse interests, educational choices, and aspirations, Damian Musk exemplifies how one can stride forward with both feet firmly on the ground, even when living in the towering shadow of an iconic figure like Elon Musk.
Conclusion
In conclusion, Damian Musk's journey is an inspiring testament to the power of carving one's niche. It's a reminder that even when born amidst giants, one can still grow to be a giant in their own right. Here's to Damian and the many milestones he's yet to achieve!
Also, Read Hasbulla-The Digital Dynamo from Dagestan.
FAQs
Who is Damian Musk?
Damian Musk, born on January 1, 2006, is one of Elon Musk's triplet sons with his first wife, Justine Musk. He has garnered attention not only because of his prominent family background but also due to his unique pursuits and education.
How is Damian related to Elon Musk?
Damian is one of Elon Musk's sons. He is a triplet with brothers Saxon and Kai. Elon Musk has other children from Elon's relationship with musician Grimes, including twins Griffin and Xavier (now Vivian Jenna Wilson) and a half-brother, X Æ A-Xii.
What's unique about Damian's birth?
Damian and his triplet brothers Saxon and Kai were born through In Vitro Fertilization (IVF). It was after the Musk family tragically lost their firstborn, Nevada, to Sudden Infant Death Syndrome (SIDS).
Where does Damian study?
Damian attends Ad Astra, an unconventional school co-founded by his father, Elon Musk, and Joshua Dahn. Initially set up in Gene Wilder's former estate in Bel-Air, Los Angeles, the school's exact location as of 2023 is a mystery. It focuses on teaching students based on aptitude rather than age.
What's unique about the Ad Astra curriculum?
Ad Astra offers a unique curriculum emphasizing Artificial Intelligence, design, and coding. Interestingly, it does not have formal courses on traditional subjects like music and sports.
What are Damian's career interests?
Damian has a keen interest in theoretical physics. He's involved in cutting-edge research at institutions like Fermilab and Caltech, specifically in quantum information for high-energy physics. Additionally, he has a passion for fiction writing and musical performance.
Does Damian engage in any social or non-profit work?
Damian is associated with various non-profit organizations, highlighting his multifaceted interests beyond academics and creative pursuits.
How did Elon Musk and Justine Musk manage their children's custody after their divorce?
After their divorce in 2008, Elon and Justine Musk decided on shared custody of their children, ensuring both parents remained integral parts of their kids' lives.
What sets Damian apart from his siblings?
While all Musk children undoubtedly have unique attributes, Damian stands out due to his blend of scientific pursuits at esteemed institutions and his creative endeavors in writing and music.
What can we expect from Damian in the future?
Given his diverse range of interests, achievements, and the foundation of his unique education, the sky's the limit for Damian Musk. Whether it's in the field of theoretical physics, creative arts, or social endeavors, the world awaits his contributions with eager anticipation.