From Aztecs to Modern Kitchens: The Legacy of Huitlacoche
Huitlacoche, fondly dubbed the "Mexican truffle," is not just any fungus. This sporous marvel, growing primarily on young corn ears, metamorphoses the kernels into cloudy, gray formations reminiscent of river stones. But its story goes far beyond its unusual appearance.
A Culinary Gem Rooted in History
The legacy of huitlacoche traces back to the era of the Aztecs. They not only relished this fungus in their tamales and stews but also revered it for its symbolic essence. Its prominence has endured, seamlessly integrating into modern Mexican culinary landscapes. Today, kitchens across Mexico are replete with the aroma of huitlacoche-laden soups, tacos, enchiladas, and more.
The Etymology and Cultural Significance
Taking a linguistic detour, the term "huitlacoche" originates from the Nahuatl language, a testament to its deep cultural roots in Central Mexico. It isn't merely a delightful ingredient; it encapsulates an age-old tradition. For some indigenous tribes like the Zuni and Hopi, huitlacoche has transcended its culinary role. To them, it epitomizes the "generation of life," underscoring its ceremonial stature.
Culinary Versatility: Beyond the Stew
If you've ever had the privilege of savoring huitlacoche, you'd vouch for its adaptability. Its tender nature, mainly when sourced canned or frozen, spares you the culinary chore of chopping or pureeing. And here's the fun part: on the heat, huitlacoche undergoes a mesmerizing transformation. It morphs from its grayish persona to a dramatic black, bestowing dishes with a unique shade and an earthy depth. But don't just stop at the traditional words; let your creativity run wild! This fungus is open to mingling with meats, cheeses, and veggies and even finding its sweet spot in desserts like flan.
Harvesting the Truffle: A Seasonal Affair
To truly appreciate huitlacoche, one must understand its seasonality. Coinciding with corn's lifecycle, the prime time for this fungus is the rainy spell from May to November. It's a fleeting treasure, making fresh huitlacoche a culinary premium. However, the modern market has adapted, offering frozen, jarred, or canned versions, ensuring its year-round presence. For those on the hunt for fresh huitlacoche, a pro tip: opt for the lighter gray, spongy ones. A firm texture might signify it being past its prime, leaning towards a bitter taste.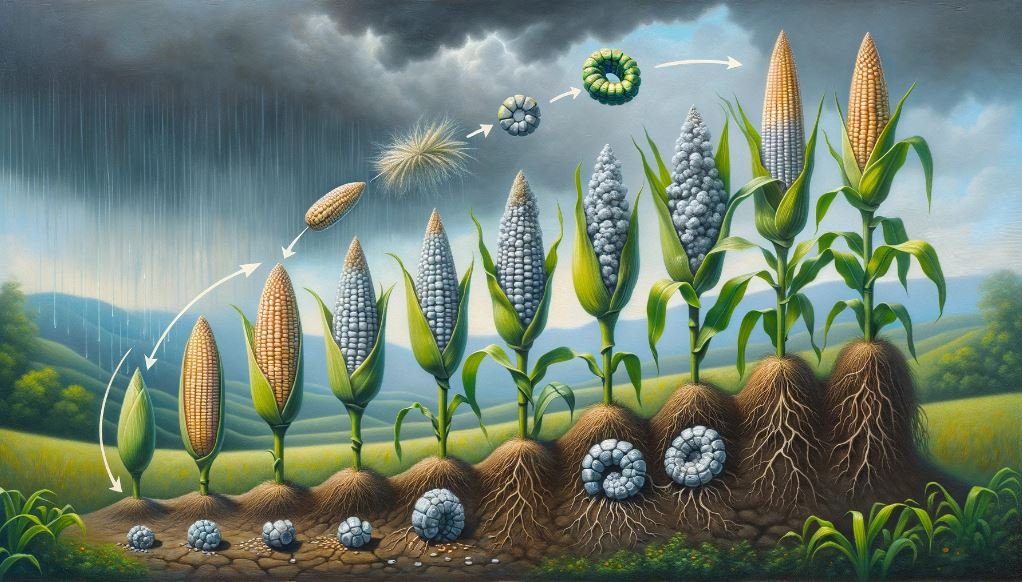 In Conclusion
Huitlacoche, with its rich history, cultural significance, and culinary versatility, remains a cherished ingredient. As you bite into a huitlacoche-infused dish, remember you're not just savoring a meal but partaking in a timeless Mexican legacy. Whether you're a culinary enthusiast or someone with a penchant for culture and history, the world of huitlacoche promises an engaging and flavorful journey. So, the next time you come across this Mexican truffle, give it the culinary spotlight it deserves.
Also, Read Tips For How to Effectively Take Care of Your Backyard Trees.
FAQs
What exactly is huitlacoche?
Huitlacoche, also known as "corn smut" or "Mexican truffle," is a porous fungus (Ustilago maydis) that grows on the ears of corn, transforming the kernels into puffy, gray formations.
How is huitlacoche historically significant?
Dating back to the Aztecs, huitlacoche was a prominent ingredient in dishes like tamales and stews. Additionally, indigenous tribes such as the Hopi and Zuni held it in high regard for its symbolic and ceremonial importance, viewing it as a representation of the "generation of life."
Why is it called the "Mexican truffle"?
The comparison to truffles arises from huitlacoche's unique, rich, and earthy flavor, much like the prized truffles found in European cuisines.
Can huitlacoche be eaten raw?
Yes, due to its soft texture, huitlacoche can be consumed raw, mainly when it's obtained from canned or frozen sources. When cooked, its color changes from gray to black, adding a distinctive hue to dishes.
What dishes commonly feature huitlacoche?
While it has deep roots in traditional dishes such as tamales and stews, huitlacoche is also found in contemporary recipes like soups, tacos, enchiladas, sauces, and even unique desserts like flan.
When is huitlacoche harvested?
Huitlacoche's prime harvest season aligns with corn's lifecycle, peaking during the rainy months between May and November. Its short season gives fresh huitlacoche a valued status in culinary circles.
How should I select and store fresh huitlacoche?
For fresh huitlacoche, look for specimens with a light gray hue and a spongy texture. Avoid firmer ones as they may be overripe and possess a bitter taste. Store it in a cool place and consume it immediately for optimal flavor.
How does huitlacoche fit into modern culinary trends?
Huitlacoche perfectly embodies the trend of revisiting and revaluing indigenous and traditional ingredients. Its versatility allows chefs to experiment and integrate it into various dishes, from appetizers to desserts.
What's the cultural significance of the name "huitlacoche"?
The name stems from the Nahuatl language, spoken by the Aztecs and still used by many in Central Mexico. The term reflects its longstanding cultural relevance, not just as a food source but also for its symbolic and ceremonial implications.
Are there health benefits associated with huitlacoche?
While this article mainly focuses on its cultural and culinary significance, many believe huitlacoche to be nutritious, containing essential amino acids, minerals, and other beneficial compounds. As always, it's necessary to consult dietary experts or relevant research for comprehensive health insights.